Cheap & comfortable accommodation in the north of bavaria
Welcome to Waldershof, a pleasant city in the heart of our nature parks Steinwald and Fichtelgebirge.
Our offering is tailored for tourists and vacationers who want to spend a few days in our region searching for a comfortable and affordable accommodation.
Our housing as an affordable alternative to hotels
Our comfortably furnished guesthouse can be booked by employees and guests of local based companies. In addition, we offer our housings for employees of local based companies and also for technicians and assemblers who carry out orders in the regions Oberfranken and Nordoberpfalz. Please do not hesitate to contact us in case you need rooms for more than one week resp. for a closed group of employees or workers.
Rooms / Accommodation
Our hotel is located in the center of Waldershof and has an excellent connection to the local road (Marktredwitz, Kemnath, Bayreuth, Tirschenreuth) and train network (Hof, Regensburg, Nuremberg, Munich). You can walk or cycle to local stores and public institutions (bakery, butcher shop, supermarket, drugstore, bank) in only 3-5 minutes. The companies CUBE, SCHERDEL and Schmelzer can be arrived in less than 15 minutes by walk or 5 minutes by cycling.
Next to our accommodation you will find signed hiking and cycling trails that guide you to beautiful places in the regions Steinwald and Fichtelgebirge. In addition, close to our accommodation you will find the citypark of Waldershof. There you can use public fitness gadgets and a children's playground.
Separate entrance
Our accommodation is equipped with a separate door.
Pick-up and bring service
In case you travel by train or bus we can pick you up in Marktredwitz or Waldershof.
Washing machine
Feel free to use our washing machine and iron.
Cabel-TV
A modern Flatscreen-TV is installed in each sleeping room.
WiFi / WLAN
We support your notebook or smartphone
with internet for free in our rooms.
Free parking
You can park your vehicle for free under our carport or in front of the guesthouse.
Our guesthouse contains 2 double bed rooms and 2 single bed rooms that are located on three floors. All sleeping rooms are fully furnished (bed, cupboard, table, club-chair etc) and are equipped with a modern flatscreen-TV. Additionally, we offer free and ease to connect WiFi support for your notebook, tablet and smartphone.

Outside of your bedroom a large shared bathroom with shower and bathtub is available. During your stay we support you with bedding and towels for free. Also, our guests can use a washing machine by themselves. Our kitchen and the dining room are equipped with extensive facilities (oven, crockery, fridge, toaster, water boiler, mixer, coffee machine).
Smoking is not allowed in all rooms of our guesthouse.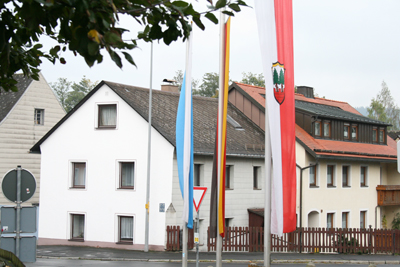 Guesthouse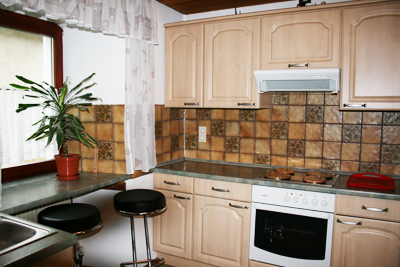 Kitchen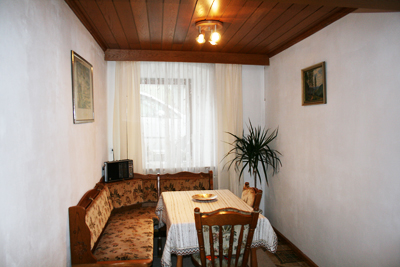 Dining room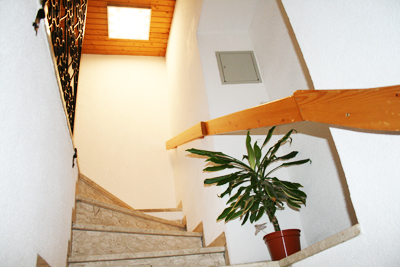 Entrance / Staircase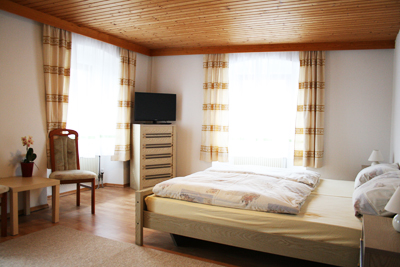 Room 1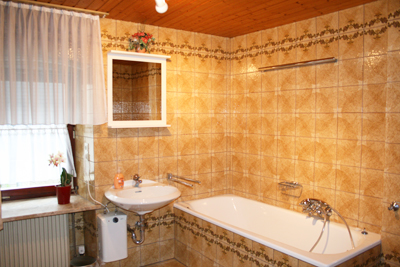 Bathroom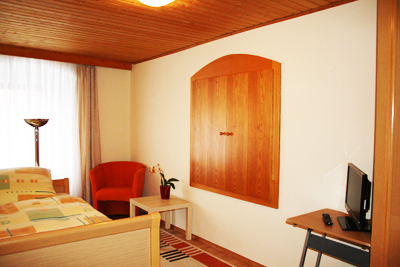 Room 2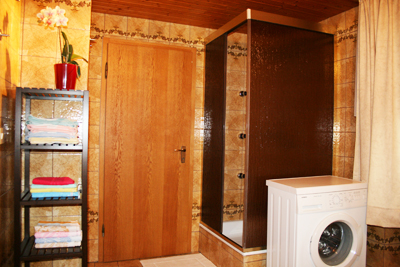 Toilet with shower and washing machine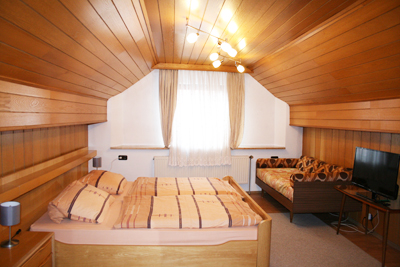 Room 3
Pricing
We are endeavoured to offer an attractive price/performance ratio for our guests.
A regular overnight stay in our accommodation costs 28€ per person without breakfast.
Double rooms cost 45€ per overnight stay.
Students and trainees
Upon presentation of a student-ID card or a trainee contract we rent our rooms for cheaper conditions. Please ask us for this option!
Payment options
You can pay cash in euros and you we will issue an invoice. Please note that we cannot accept credit cards or mobile payment. In exceptional cases we offer payment via PayPal.
Arrival to Waldershof
You can travel to Waldershof with your car by using the highway A93 (Motorway exit Pechbrunn / Lengenfeld). If you take the train from Munich, Nuremberg oder Hof we recommend you to leave the train at Marktredwitz main station. Trains from Bayreuth will stop on request (you need to press a button) in Waldershof stations. From there you only have to walk 10 minutes to our guesthouse. Please contact us if we shall pick you up from Marktredwitz or Waldershof station.